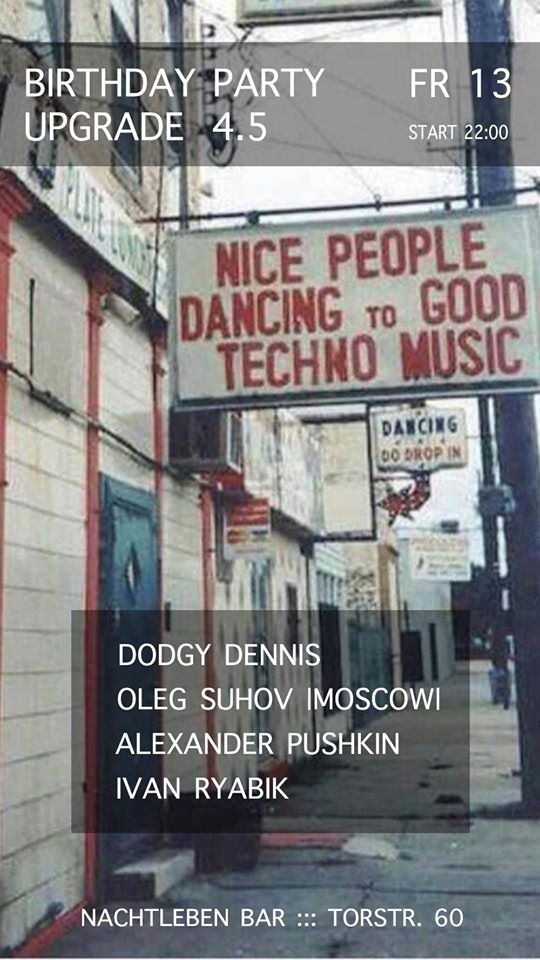 Ladies and Gentlemen!
On Friday, December 13, at the Nachtleben club (formerly Kaffee Burger),
we celebrate the small anniversary of Alexander Pushkin.
—
В пятницу, 13 декабря, в клубе Nachtleben (ex Kaffee Burger)
отмечаем маленький юбилей Александра Пушкина.
Специальный гость — DJ Oleg Suhov [Москва]
—
Line Up:
DODGY DENNIS (СССP Club / Berlin)
ALEXANDER PUSHKIN (BlackFoxMusic / Radio RB / Berlin)
OLEG SUHOV (Garage Soundsystem / Moscow)
IVAN RYABIK (Feier Bekenntnis / Berlin)
________
supported by:
www.garagefm.de
www.garagefm.ru
RADIO RB 97.2 FM
www.radio-rb.de
BLACKFOFMUSIC
www.blackfoxmusic.com
NACHTLEBEN BAR
instagram.com/nachtlebenberlin
________
Start 22:00
Entry FREE
________
NACHTLEBEN
ex KAFFEE BURGER
TORSTR. 60
10119 Berlin
WELCOME !!!